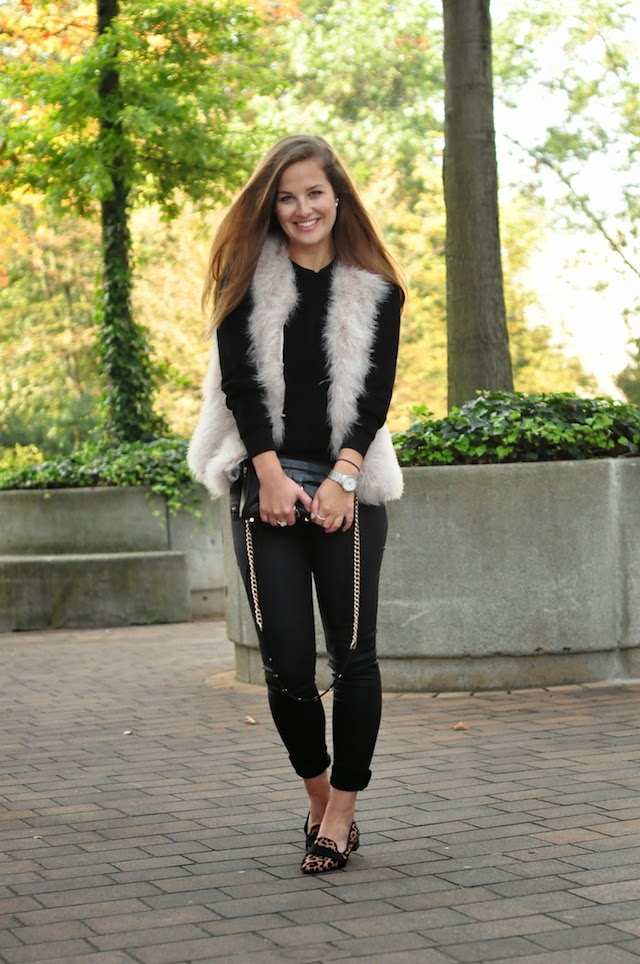 Hallöchen, ich freue mich total, dass Vanessa mir die Chance gegeben hat mich bei euch vorzustellen während sie sich in Florida die Sonne auf den Bauch brutzeln lässt. Falls ihr jetzt einen leicht neidischen Unterton vernehmt, lest ihr ganz richtig! Ich liebe nämlich den Sommer und es zu verreisen. Am liebsten würde ich jetzt sofort mit ihr tauschen! Da sind wir auch schon bei meiner Wenigkeit angekommen: Ich bin Vicky und blogge normalerweise auf

Stories & Smiles

. Hauptsächlich zeige ich – so wie heute auch – Outfitposts. Ab und zu mogelt sich auch der ein oder andere Beautypost dazwischen. Ich liebe es zu reisen und berichte auch darüber auf meinem Blog. Vielleicht kennt mich die ein odere andere von euch schon von The Blogger's Choice!

Mein heutiges Outfit habe ich schon vor einer ganzen Weile zu einer Shop Eröffnung in Frankfurt getragen, auch wenn die Temperaturen ziemlich mild für einen November sind, gehe ich jetzt ganz so "barfüßig" doch nicht mehr vors Haus. Es war mein erstes richtiges Event und dementsprechend aufgeregt war ich, die vielen anderen Blogger aus Frankfurt kennen zu lernen. Das All-Black-Outfit ist mein Backup für alle Fälle. Egal zu welchem Anlass schwarz passt einfach immer. Die fedrige Hallhuber-Weste verleiht dem ganzen noch den benötigten Stylefaktor, damit das Outfit nicht ganz so fad erscheint. Die Idee meine Federweste auf einen schwarzen Pullover zu kombinieren war nicht unbedingt eine gute: die Weste "federt" ziemlich stark, so dass ich aussah wie ein gerupftes Huhn! Nichtsdestotrotz habe ich mich in dieser Kombination pudelwohl gefühlt. Wie gefällt euch mein Outfit? Ich hoffe, dass euch mein kleiner Gastbeitrag gefallen hat und dass ihr mal bei mir vorbeischaut!

Hi everyone! I'm super excited that Vanessa gave me the oppertunity to introduce myself to her readers while she's getting herself a nice late summer tan in Florida! Well, I'm getting a little jealous over here in the cold Germany and would switch places with her in a second! I just adore summer time and love to explore new places around the world.
But let's start in the beginning: my name is Vicky and usually I blog on Stories & Smiles. Mainly, I blog about outfits – just like I do today. Every now and then you can find a beauty post up on the blog. And since I'm a huge traveler at heart, there's always a travel diary up as soon as I'm back home from my super adventurous vacations!

I wore today's outfit already some while ago to a shop opening in Frankfurt. Even though we are currently blessed with pretty mild tempertures for a November, I don't leave the house that "barefoot" anymore. The shop opening has been my very first real blogger event and I was super excited and nervous at the same time to finally meet the other lovely bloggers of my home town. An all-back-outfit is my life saver for all emergencies! It doesn't matter what the event is like, black always works! This feathery vest which I scored at Hallhuber gives the much needed style factor to a rather simple outfit. But I must admit, combining this vest with a black sweater might have not been my smartest idea lately: the vest sheds feathers quiet a bit and I looked like a plucked chicken! Nevertheless, I felt super comfortable in this outfit. How do you like my outfit? I hope you enjoyed today's post and maybe you are visiting once in a while my blog as well!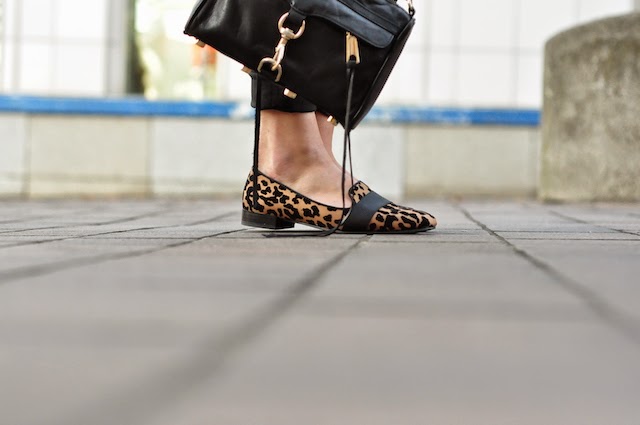 Vest/Trousers: Hallhuber. Sweater: COS. Shoes: Zara. Bag: Rebecca Minkoff.
Follow Pieces of Mariposa with: