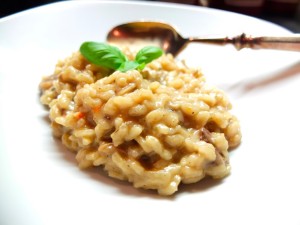 Zutaten (für 2-3 Personen):
250 Gramm Risottoreis (hier: Ferron Carnaroli Reis)
30 Gramm getrocknete Stein

pilze
2 Schalotten
1/4 Liter trockene

r Weißwein
Gemüsebrühe (ein paar Löffel)
frisch geriebener Parmesan (Menge nach Be

lieben)
Zubereitung:
Die getrockneten Steinpilze in kaltem Wasser einweichen. In der Zwischenzeit die Gemüsebrühe in 1,5 Liter Wasser zum Kochen bringen und leicht köcheln lassen. Die Schalotten fein hacken. Anschließend das Einweichwasser der Steinzpilze zu der Gemüsebrühe geben und die Pilze zusammen mit den Schalotten in Butter andünsten. Den Reis zugeben und etwa 2 Minuten glasig dünsten. Mit Weißwein ablöschen, kurz aufkochen und unter ständigem Rühren einkochen lassen. Sobald die Flüssigkeit eingekocht ist, 1-2 Schöpfkellen der heißen Brühe zugeben und wieder unter Rühren einkochen lassen. Diesen Schritt so oft wiederholen, bis der Reis cremig, aber noch ein wenig bissfest ist. Es kann durchaus sein, dass ihr eine halbe Stunde rühren müsst, also habt Geduld und rührt fleißig um!:) Zum Schluss den geriebenen Parmesan und ein wenig Butter zugeben und unterrühren. Mit Salz und Pfeffer würzen und servieren.
Ingredients (

makes 2-3 portions)

:
250 gram risotto rice (I´m using Ferron Carnaroli Rice)30 gram dried porcini
2 shallots
a quarter litre of dry white whine
some vegetable broth
one and a half litre of water
20 g butter
salt and pepper
freshly grounded parmesan cheese (amount at will)

Directions:
Steep the dried porcini in cold water. In the meantime bring the vegetable broth and the water to the boil, then let it simmer slightly. Finely dice the shallots. After this pour the steep water in the vegetable broth and steam the porcini together with the shallots in hot butter. Then add the rice and mix it all with a wooden spoon for two minutes. Deglaze with the white wine, boil briefly and then stir continuously. As soon as the wine is boiled down add a small ladle of hot broth and boil down whilst stirring. Repeat this step until the rice is creamy but still a little firm to the bite. Be patient because you will have to stir up to half an hour!:) To finish up add the parmesan and a little butter, season to taste with salt and pepper and serve.