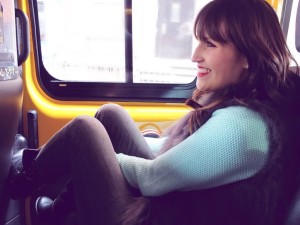 Sweater: Forever 21. Vest: Local Shop. Jeans: Dr. Denim. Shoes: Vince Camuto. Belt: Gucci. Jewelry: Zara. Bag: Balenciaga. Sunnies: Ray B

an.
Was ist ein weiteres typisches Erkennungsmerkmal

von

New York?

Natürlich d

ie gelben Taxis und die Art, wie

man sie

heranwink

t.

Und nach ein paar sehr laufreichen Tagen,

war

es

zur Abwechslung ganz schön, sich die Stadt mal im Sitzen anzusehen

!

D

a die Farbe des Taxis so schön im Kontrast zu meinem türkisfarbenen Pullover von Forever 2

1

und der Kette von Zara stand, musste ich diese Location einfach für ein paar Outfitfotos nutzen. Also seht es mir bitte nach, dass es keine Bilder gibt, die das komplette Outfit im Stehen zeigen

.

Ich wünsche euch ein schönes Wochenende!
What´s another unmistakable feature of New York? The yellow taxis and the way in which you have to stop one. And after a few days of endless walking it was very comfortable to make a bit of sightseeing while seated! As the colour of the taxi stood

perfectly

in contrast

to

my sweater and necklace I just had to make this

pictures for a little outfit post. So please forgive me for not showing you pictures where you can see the whole outfit. I wish you a great weekend!