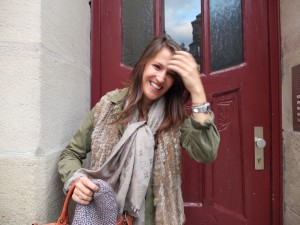 Parka: Zara. Vest: Oakwood. Shirt: Dorothy Blue. Jeans: Dr. Denim. Scarf/shoes: Louis Vuitton. Beanie: H&M. Bag: Balenciaga.
Mein Outfit vom Sonntag lässt sich in zwei Worten zusammenfassen: warm und gemütlich! Die Weste und den Schal werdet ihr in den nächsten Monaten mit Sicherheit noch häufiger zu sehen bekommen, sie sind meine treuen Begleiter für die kalte Jahreszeit. Nachdem sich das Wetter in der Früh nicht von seiner besten Seite gezeigt hat, war ich froh, als nachmittags die Sonne heraus kam. Meine Schwester und ich haben diese Stunden genutzt, um ein paar Fotos zu schießen und ich muss sagen, wir hatten extrem viel Spaß dabei. Ich will gar nicht wissen, was sich die Leute gedacht haben, als wir kichernd durch den Park gelaufen sind, aber nach meinen grazilen Versuchen auf eine Mauer zu klettern (siehe hier), konnten wir gar nicht anders als albern zu sein. Und ich finde, man muss sich ja nicht immer total erwachsen aufführen, das müssen wir im Alltag schließlich oft genug!
My outfit from last Sunday can be summed up in two words: warm and cozy! And I have to warn you, you will see the vest and the scarf some more times in the next months because they are two of my favourite items for the cold season. After a really rainy morning I was glad as the sun came out in the afternoon. My sister and I took the opportunity to make some photos and as you can see we had a lot of fun. We were giggling and kidding around after I tried to climb on a wall and totally failed to look elegant, instead I looked like a fool (have a look here)! In my opinion it is necessary to fool around here and there as we have to behave adulty all the time in our everyday life!