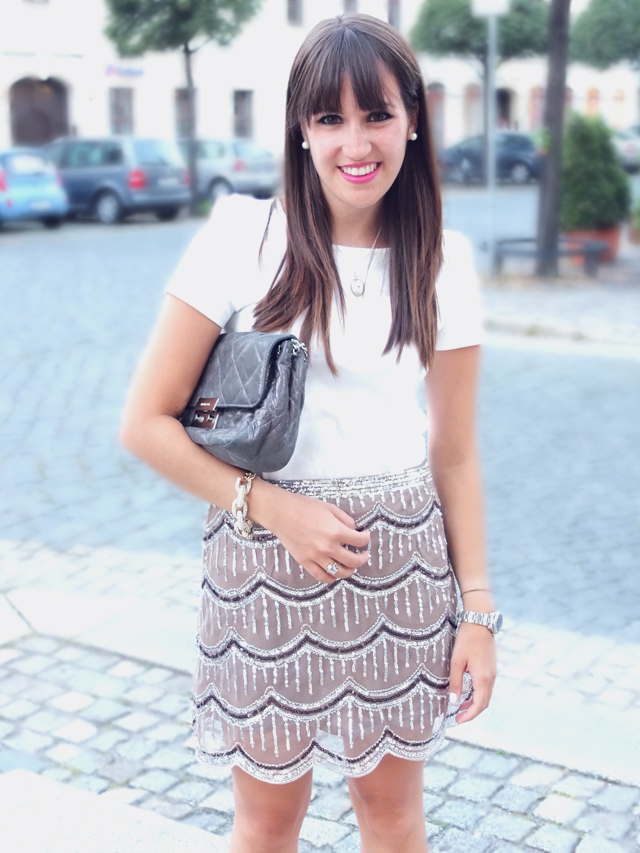 Spätestens seitdem ich und mein Freund die Serie Boardwalk Empire anschauen, bin ich ein riesiger Fan der Mode der 20er Jahre. Vor allem die glamouröse Abend

garderobe der Damen mit den tollen Frisuren, Hüten und Kleidern

hat mich sehr begeistert

!

Heutzutage komm

t

man sich schnell overdressed vor, wenn man sich zum Ausgehen ein wenig chicer macht. So kam es auch, dass ich den Rock, den ihr auf den heutigen Bildern seht, bisher nur einmal getragen habe und das auch nur an Silvester bei uns daheim. Weil er aber viel zu schön ist, um einsam im Schrank zu vers

tauben

, habe ich ihn kurzerhand letztes Wochenende beim Mädlsabend in Dresden angezogen. Und

in

Kombination mit einem schlichten weißen Shirt und silbernen Peeptoes habe ich mich dann auch genau richtig und nicht zuuu overdressed gefühlt

..

:) Habt e

in schönes Wochenende!
Ever since my boyfriend and I are looking the series Boardwalk Empire I´m a big fan of the fashion of the 20s. I´m

so taken by

the glamorous evening dress of

all the

women with lots of great hairdos, hats and dresses! Nowadays you soon feel overdressed when wearing something really chic. That´s why I´ve worn the skirt you can see above just one time and that was for New Year´s Eve at home. Too sad

, so

I´ve decided to wear it while being in Dresden with my girls last weekend. And I really liked the combination with a white shirt and some metalic peeptoes – not do boring and not to overdressed..:)

Have a great weekend everyone!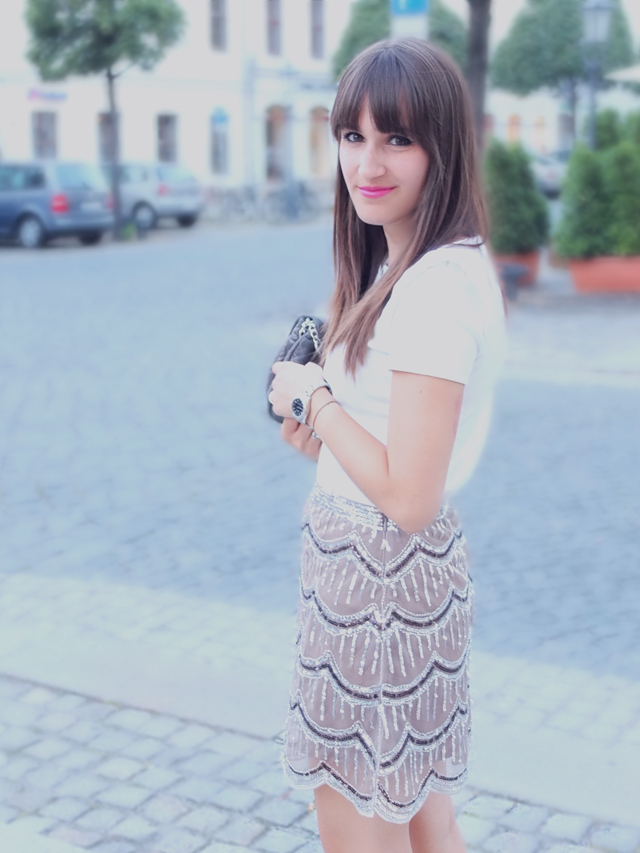 Skirt: Forever 21. Shirt/Shoes: Zara. Bag: Michael Kors. Jewelry: Etsy, Pandor

a, Vintage.